Law and Disorder February 27, 2017
Play Now
|
Play in Popup
|
Download
My Friend Cayla And Other Toys That Spy
Several consumer advocates are urging retailers including Amazon.com and Walmart to stop selling a doll that can eavesdrop on children and families.
The groups are calling on the retailers to discontinue sales of the doll called My Friend Cayla after filing a complaint in late 2016 with the Federal Trade Commission. The complaint alleges that Cayla and another toy, the I-Que Robot, which isn't sold in the U.S., can transmit recordings to Nuance Communications, a speech-to-text software company that contracts with military and law enforcement agencies, among others.
The doll, made by interactive toy maker Genesis, are wireless-enabled devices that advocates say can open the door to hackers, and other privacy violations.
In a letter to Amazon's CEO, Josh Golin, of the Campaign for a Commercial-Free Childhood, wrote "My Friend Cayla poses significant security risks that could place children in physical danger…A stranger or potential predator within a 50-foot range can easily establish a Bluetooth connection with the doll, eavesdrop on the child, and even converse with the child through the doll."
A similar letter, also signed by the Center for Digital Democracy and the Electronic Privacy Information Center was sent to Walmart, Target, and Toys 'R' Us. Toys R Us said the doll is no longer for sale at its stores or through its website.
Guest – Josh Golin, Josh started at CCFC as an intern in 2003 and has been with the organization in a variety of capacities ever since. Most recently, he served as CCFC's Associate Director organizing CCFC's advocacy campaigns and developing its communications strategy. His writings about the commercialization of childhood have appeared in a wide range of outlets. He and his wife Jennifer are doing their best to raise their daughter, Clara, commercial-free.
—-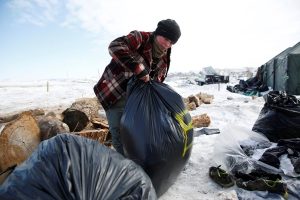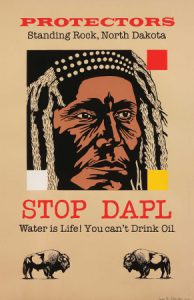 Dakota Access Pipeline Dispatch #10
In early February, under orders from President Donald Trump, the Army Corp of Engineers approved and easement allowing Energy Transfer Partners to drill under the Missouri River near North Dakota's Standing Rock Sioux Reservation. Standing Rock and neighboring tribes are trying to halt the project in court and pipeline opponents have embarked on a so called last stand, holding protests and actions across the nation. Authorities had set a deadline of February 22, 2017 for the protesters to clean up and return home. At the main encampment, trucks are hauling away garbage and abandoned goods. Some protesters are relocating to higher ground nearby on the reservation. In preparation for the evacuation dozens of North Dakota police and National Park Service rangers had surrounded the camp.
Water Protectors Legal Collective – NLG
Guest – National Lawyers Guild Attorney Jeff Haas, recently returned from living at the North Dakota encampment with thousands of Native Americans and climate change activists who gathered in solidarity with the Standing Rock Indian tribe in North Dakota to protest the pipeline construction. Jeff Haas was a founding partner of the Peoples Law Office in Chicago. He victoriously represented the family of Fred Hampton, the chairman of the Chicago Black Panther Party and proved that Hampton was assassinated by the FBI and Chicago Police Department. He's also author of the book The Assassination of Fred Hampton.
Sacred Stone Camp Legal Defense – Lawyers wanting to support the Sacred Stone Camp, contact Attorney Robin Martinez –  robin.martinez@martinezlaw.net
———————————————–