On this last day of 2007, Law and Disorder will look at the stories that have taken civil liberties in this country many steps in the wrong direction. We start with the question of impeachment, what happened, why it stalled, we'll look at damaging supreme court decisions and draconian legislation that took large bite out of the right to free speech and dissent in this country.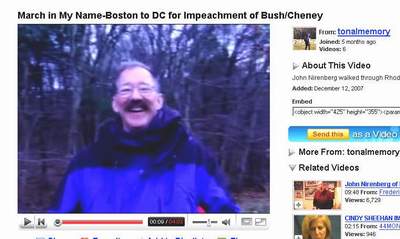 We begin by checking in with John Nirenberg, he's marching from Boston to Washington DC. His goal, to walk 485 miles to deliver his message of impeachment to Nancy Pelosi. Nirenberg explains to hosts how after reading The Lucifer Effect: Understanding How Good People Turn Evil. One slogan from www.marchinmyname.org reads. . . "when voting isn't enough, when letter writing isn't enough, when signing petitions isn't enough, when outrage isn't enough."
Guest – John Nirenberg former Professor of Organizational Behavior. He started his career as a Social Studies and American History teacher.
Impeachment?

Hosts discuss the "magnificent failure on impeachment followed by the continued approval for war funding in Iraq and Afghanistan and connect it with the Executive Order: Blocking Property of Certain Persons Who Threaten Stabilization Efforts in Iraq.
Co-host Michael Ratner enumerates several key stories of torture in 2007, including the destruction of the CIA videotapes, the Mahar Arar case, and the confirmation of Attorney General Michael Mukasey who says he's not certain if water-boarding is torture.
Law and Disorder hosts then talk about the recent Supreme Court arguments regarding the remaining Guantanamo Bay Cuba detainees and the horrible failure to restore habeas corpus. This case may determine once and for all whether there is a constitutional right to habeas corpus – that is, a fair hearing before a real court – for everyone detained by the U.S. government at Guantánamo.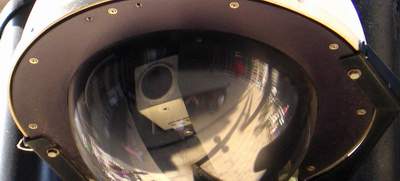 Increases in surveillance powers were also on the list of wrong-turn stories this year, co-host Heidi Boghosian points out the legislation that extends the Foreign Intelligence Surveillance Act. In the wake of Congress approving a dramatic expansion of U.S. warrant-less wiretapping powers, the Center for Constitutional Rights has argued that the NSA's program is unconstitutional and should be struck down. The argument in CCR v. Bush comes after Congress and the Bush administration passed the Protect America Act of 2007 which broadly expands the government's power to spy on Americans without getting court approval.
Hosts also examine the Violent Radicalization and Homegrown Terrorism Prevention Act. Legislation that appears an effort to re-create the House Committee on Un-American Activities, which was a standing commission in the fifties and sixties to root out "un-American" ideas among political activists. This, with the John Warner National Defense Authorization Act for FY 2007 is key to installing the police state apparatus and declaring martial law.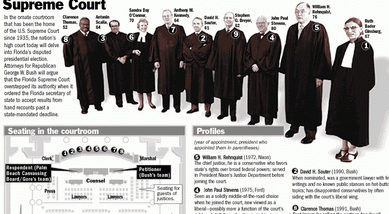 The New Supreme Court: The Trifecta 2007
The 5-4 ruling that race cannot be a factor in the assignment of children to public schools. Free speech not an option for students regarding (Bong Hits For Jesus).
Campaign Finance Reform – The Supreme Court has thrown out part of the McCain-Feingold campaign finance law that placed restrictions on corporations and unions from buying television ads close to elections
The citizens' ability to challenge government violations of the separation of church and state, Hein v. Freedom from Religion Foundation 5-4, the Justices ruled that taxpayers do not have standing to challenge the White House program on federal aid to faith-based organizations.
On a lighter note, Supreme Court justices overturned a U.S. appeals court ruling that judges cannot hand down a lighter punishment because they disagree with wide disparities for crack and powder cocaine sentences. Blacks account for about 80 percent of the federal crack cocaine convictions.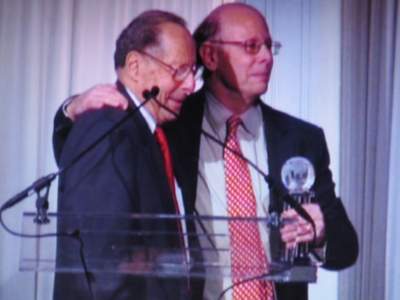 Michael Ratner's Acceptance Speech
We end this year-end program with an acceptance speech delivered by co-host, attorney, author and Center for Constitutional Rights President Michael Ratner. Michael received the 2007 Puffin/Nation Prize for Creative Citizenship.
"One of the country's foremost defenders of human rights and civil liberties, Michael Ratner has led the fight to demand due process for Guantánamo detainees, adequate safeguards against intrusive government surveillance, and an end to torture and extraordinary rendition."