Hosts Update: Fidel Castro and Cuba in the news.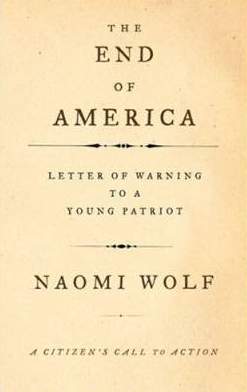 Encore Segment: Naomi Wolf – The End of America: A Letter of Warning to a Young Patriot
Law and Disorder hosts were live in the studio with Naomi Wolf. Naomi Wolf is a feminist, social critic and political activist. The New York Times called her book, The Beauty Myth, one of the most important books of the 20th century. Wolf is the co-founder of The Woodhull Institute for Ethical Leadership, teaching young women to become leaders and agents of change. Naomi Wolf blog in the Huffington Post
Her latest book The End of America: A Letter of Warning to a Young Patriot is a call to return to the beliefs of our founding fathers. Wolf's new book illustrates ten steps historically taken by leaders who are attempting to dismantle a democracy. Wolf jokingly called it the The Greatest Hits of Facism.
In The End of America, Wolf gives voice to the cause of every American patriot: the preservation of the Constitution and the liberties it embodies and protects.
"Recent history has profound lessons for us in the U.S. today about how fascist, totalitarian, and other repressive leaders seize and maintain power, especially in what were once democracies. The secret is that these leaders all tend to take very similar, parallel steps. The Founders of this nation were so deeply familiar with tyranny and the habits and practices of tyrants that they set up our checks and balances precisely out of fear of what is unfolding today. We are seeing these same kinds of tactics now closing down freedoms in America, turning our nation into something that in the near future could be quite other than the open society in which we grew up and learned to love liberty," stated Wolf.
—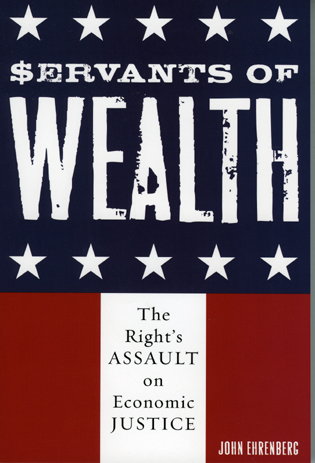 Servants of Wealth: The Right's Assault on Economic Justice
"Freedom and democracy" are two words we've been hearing from the right wing in this country for 25 years. In their quest to shore up support for the politics of wealth and privilege, the Right has organized patiently and consistently by focusing on a core ideology to amass a formidable base. The Right's commentary on world affairs, morality, the state, and the economy, though, has had an overarching focus, namely to eliminate social equality as a legitimate public policy goal. Its success has resulted in one of the most dramatic, undemocratic, and insidious transfers of wealth and power in recent American history.
Guest – John Ehrenberg, author of the book "Servants of Wealth: The Right's Assault on Economic Justice." A professor of political science at Long Island University, in this, his third book, critically analyzes the rise of an ideologically coherent Right. He dissects their themes of military weakness, moral decay, racial anxiety, and hostility to social welfare to reveal their central organizing objective of protecting wealth and assaulting equality.