US Attorney General Nominee Mukasey DIRECT ACTION PAGE
Law and Disorder October 29, 2007
[ 58:32 ]
Play Now
|
Play in Popup
|
Download

Is Water Boarding Torture? Judge Michael Mukasey's Nomination for Attorney General
Co-hosts Michael Ratner and Michael Smith discuss how Judge Michael Mukasey claims he's unfamiliar with "water boarding" as a form of torture.
Echoing Michael Mukasey, his friend and associate who likely will soon be the next attorney general, Republican presidential front-runner Rudolph Giuliani claimed Wednesday that he doesn't know whether waterboarding is torture. Read more by Joe Conason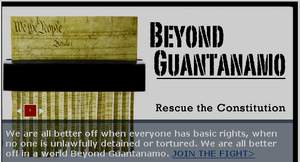 Beyond Guantanamo: Rescue the Constitution
Michael Smith and Heidi Boghosian speak with CCR attorney Jen Nessel about the launch of Beyond Guantanamo Rescue the Constitution Campaign. Find out more here – CCRJustice.org
—-
Law and Disorder Re-Broadcast from June 11th, 2007
Maze of Injustice – The failure to protect Indigenous Women from sexual violence in the USA
A recent Amnesty International study on the sexual violence against indigenous women in the United States exposes a disturbing trend in human rights abuse. The reasons why indigenous women are at particular risk of sexual violence are complex. According to the report, more than one in three Native American and Alaska Native women are survivors of rape. Most of the abused women have not followed through in their cases to seek justice because of a general inaction within the tribal government authority and its chronic under-resourced law enforcement agencies which should protect indigenous women. As one support worker said, "Women don't report because it doesn't make a difference. Why report when you are just going to be re-victimized?" Too many times, as the Amnesty Report identifies, those responsible for the violence are able to get away with it.

Guest – Michael Heflin, the Amnesty International USA Campaign Director.
Guest – Juskwa Burnett, counselor for the Otoe-Missouria Tribe in Oklahoma. Juskwa Burnett has a long history of working on domestic abuse and sexual assault of Native women.

Listen to or download Maze of Injustice Segment
——–
Conscientious Objectors from Vietnam to Iraq
Here on Law and Disorder we continue to look at the issue of Iraq war resisters and conscientious objectors. We've interviewed war resistors – their families and discussed conscientious objection. We also look at how legislation has changed for soldiers applying for CO status.
Since the Vietnam War more than 170,000 men were officially recognized as conscientious objectors. But, in 1971 the Supreme Court refused to allow objection to a particular war, a decision affecting thousands of objectors to the Vietnam War. Some 50,000–100,000 men are estimated to have left the United States to avoid being drafted. Now, the US military is all-volunteer. We talk with Citizen Soldiers' Tod Ensign about what's changed for Conscientious Objectors since the Vietnam War and compare what it means to be a CO in today's United States military.
Joining us in this discussion is Tod Ensign, lawyer and the director of Citizen Soldier, a support organization for Gis.